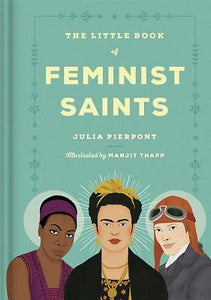 A perfect graduation gift, this beautifully illustrated collection honoring one hundred exceptional "feminist saints" throughout history is sure to inspire women and men alike.
A Stylist Must-read Book of 2018
In this luminous volume, New York Times bestselling writer Julia Pierpont and artist Manjit Thapp match short, vibrant, and surprising biographies with stunning full-color portraits of secular female "saints" champions of strength and progress. These women broke ground, broke ceilings, and broke molds--including
Maya Angelou - Jane Austen - Ruby Bridges - Rachel Carson - Shirley Chisholm - Marie Curie & Ir ne Joliot Curie - Isadora Duncan - Amelia Earhart - Artemisia Gentileschi - Grace Hopper - Dolores Huerta - Frida Kahlo - Billie Jean King - Audre Lorde - Wilma Mankiller - Toni Morrison - Michelle Obama - Sandra Day O'Connor - Sally Ride - Eleanor Roosevelt - Margaret Sanger - Sappho - Nina Simone - Gloria Steinem - Kanno Sugako - Harriet Tubman - Mae West - Virginia Woolf - Malala Yousafzai
Open to any page and find daily inspiration and lasting delight.
Praise for The Little Book of Feminist Saints
"Brimful of startling anecdotes . . . The women in this book . . . blazed trails where none existed before."--The Guardian

"A new set of role models and heroes--'matron saints'--for the feminist future."--The New York Times Book Review
"A whistle-stop tour of inspiring women . . . The artwork] deserves to be framed in every woman's living room."--Diva
"Short, snappy and inspiring with] glorious visuals."--Psychologies

"This beautifully illustrated collection offers daily inspiration and humorous anecdotes to remind you why we worship these women so."--Hello Giggles
"An enticing collection . . . Pierpont's pithy write-ups are accompanied by Thapp's funky, wonderfully expressive color illustrations, making for an engaging picture-book experience for adults. . . . Bold and sassy . . . required reading for any seeking to broaden their historical knowledge."--Kirkus Reviews (starred review)

"Small enough to tuck into a bag, this delightful book offers instant inspiration."--BookPage